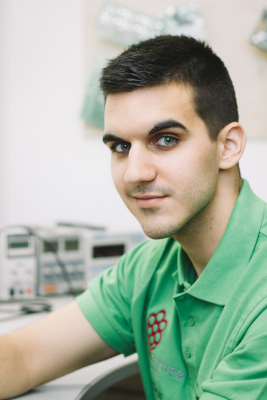 Dávid Kulcsár

Electrical engineer, MSc.
Engineer
/Thyssenkrupp Presta Hungary Kft./
Previous workplaces:
Xtalin Ltd. - developer
Formula Student East competition - scrutineer
Prisontek Kft - developer
BME Formula Racing Team – Electric team member
Studies:
Budapest University of Technology and Economics – Faculty of Electrical Engineering and Informatics – Electrical engineer – BSc. and MSc.
Katholische Theresienschule, Berlin (Germany) - 3 months of study abroad with a high school
Bolyai János High School (Kecskemét) - mathematics – informatics faculty
City: Lajosmizse
Date of birth: 1993
Professional interests: embedded systems, image processing
Hobbies: running, exercise, hiking, professional development
I am mainly working with embedded systems which I have first learned about in the Formula Racing Team. During my university years I wanted to gain experience, which is why I have applied to FRT, where young engineering students have to design and build a one-seater racecar in one year. After that they can compete with each other in many international events. This place gave me a lot both in professional development and in terms of friends.
During and after university I have worked at multiple companies where I could learn even more. From my experience this profession really is all about constant learning and improvement, and this is exactly why it is exciting and never boring.
If you allow me to give one piece of advice, dear reader, search for those places where you can gain friendships while improving yourself professionally. It has helped me a lot!
I hope this curriculum will also be a part of your professional development. Use it well, I wish you great success in life!